June 8, 2022
Wood flooring trends: What does 2022 have in store for you?
Among the trends for 2022, wood floors remain the top choice of consumers for floor covering. Here are the main trends to look for in terms of products, style, color, and responsible purchasing.
Species with visible growth rings
White Oak
A strong trend for many years now, open and distinctive grain wood species have reclaimed their notoriety and stand out as a definite base trend in floor covering. Undefeated for many seasons now because of its golden cold and distinctive grain, White Oak holds its place as a favorite due to its versatility, showcasing the warm colors and subtle beige hues that illuminate any decor. Still trendy, White Oak will no doubt keep its top position among the 2022 trends with its smoky beige colors and pale, subtle browns. White Oak will, without a doubt, always be a top choice.
White Ash
Known for its distinct veins and its creamy white to medium brown colors, White Ash is a species that deserves our full attention, this year. Its marked growth rings and naturally pale hues add a European touch to any decor. White Ash looks best when paired with subtle, transparent colors, that let the wood grain shine through.
Although White Ash is quite like White Oak, it will charm clients that go for a cleaner look with more subtle character marks. With the "Farmhouse" trend still very much in style in 2022, where the classic style and warmth of the wood pairs wonderfully with open, luminous spaces, and a modern touch, White Ash is without a doubt the flooring to choose. It is available in 5" width boards and more, for that modern side that works so well with traditional country styles!
Like Red and White Oak, the veins in White Ash are perfect with a brushed finish. With its warm and authentic look, this texture is the best choice for families and pet owners, as it helps hide the marks of time and dust.
Red Oak
In 2022, Red Oak still holds onto its place firmly as most noble, attractive, and popular species, through the seasons.
A true icon, Red Oak has always reinvented itself, standing the test of time and keeping its prestige and timeless value. This year, Red Oak is embellished with pale organic hues that mute its naturally pink sub-tones. In this way, the wood grain and unique veins are enhanced and give a completely new look. The 2022 Red Oak look is very close to White Oak but with a slight touch of warmth that brings comfort to our decor.
Wood, as far as the eye can see...

Since the current trend calls for airy surroundings, so to speak, wood floors will continue to conquer open spaces. Think about installing your wood flooring from the living room to the kitchen to create a visual effect of more space and avoid abrupt transitions. Say YES to wood in the kitchen! Since science has evolved, quality finishes will adequately protect hardwood floors against daily hazards. And for a more pronounced effect, choose 5", 6 1/2" and even more than 8" boards. Long and wide boards will give a spacious look, even to a small room. Wider boards will give a small bedroom a truly majestic look. And when we mention wide boards, think Engineered. There is no doubt that this innovative platform will continue its growth in 2022.
Classic and ultra chic patterns!
Herringbone floors remain a solid trend. Both classic and timeless, this design will add a noble touch to any decor. Traditionally offered in short and narrow boards, Herringbone floors have reinvented themselves in wider and longer boards for a very luxurious look! Often used as an insertion in the center of a room, Herringbone designs now literally take the floor with full surface, wall-to-wall installations for a unique look and a guaranteed "Wow" effect.
On a local note
We can't start 2022 without a word about local purchasing. Although this trend has been pervasive for a few years now, the last months have helped solidify this practice. Supply logistics, awareness of the composition of consumer goods, social and environmental considerations are all elements that impose a reflection on the source, sustainability, and life cycle of the products that we buy. Because we have the natural resources, science and technology, sense of design, and we can be proud of Canadian and North American made products, it is natural to celebrate wood floors that are made here.Hard Maple, Red Oak, White Oak, Hickory and American Walnut are among the most noble of species and all come from local forests. They are adapted to our climate, renewable and subject to strict and responsible wood harvesting rules. The factories where local hardwood floors are made are mindful of their employees and their health, and the jobs that they supply support the local economy. Choosing products that are purchased for their sustainability is a natural, strong, and durable trend.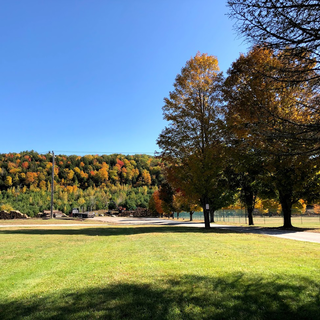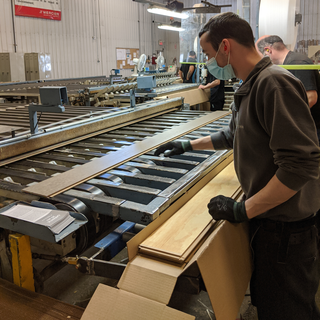 Translucent colors...with a subtle twist!
Perhaps because they are spending more time at home than before, people appreciate the reassuring and comforting effect of nature-inspired tones. Colors are pure, organic, and warm. Expertly dosed beige tones are warmed with a subtle touch of caramel. A slight smoky effect also adds warmth to the natural wood tones. Pale hardwood floors, whether natural or with slight pigments, reveal themselves in light and transparency. The wood's grain and richness are more popular than ever this year, standing out proudly. Regarding colors, subtlety is key, with very delicate touches of "Butterscotch". Very light browns with soft coffee accents, and beiges with tones that are reminiscent of sand dunes are also very present.
Conversely, opaque or cloudy finishes are to be avoided. Finishes with a "plastic" effect are also proscribed.
Finally, wood is ultra-trendy and purely 2022, real material, with all its richness, texture, and uniqueness!