September 28, 2020
40 years ago, Mercier became the original prefinished wood flooring.
40 years ago, Mercier became the original prefinished wood flooring.
Things have changed a lot in the North American wood flooring industry. What is considered standard today was practically impossible 40 years ago. It took a lot of guts, conviction and perseverance for Marcel Mercier to transform an ingenious idea into a remarkable innovation that made Mercier Wood Flooring the original prefinished wood flooring.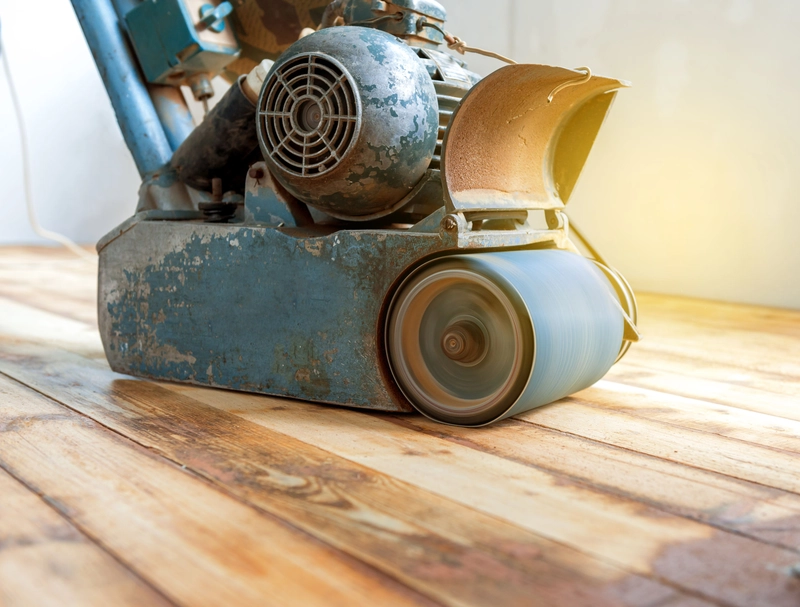 Let's go back in time
Long before the 1970s, in our part of the world, choosing oak or maple hardwood flooring was a logical, sensible choice. Back then, several coats of varnish had to be applied once the flooring was installed. After 15 or 20 years of wear, depending on the activity in the home, the hardwood would inevitably have to be refinished to regain its original look. This project posed a major inconvenience and hassle as families were forced to leave the home for several days to avoid breathing sanding dust and inhaling strong, even toxic fumes.
And this is exactly where the Mercier story begins.
The wonderful story of a devoted mother, a hardworking father, and a wringer washing machine.
Like most homes, the Mercier family needed to refinish their flooring. But how could they reduce the work's impact and inconvenience? Mrs. Mercier proposed the idea of factory pre-varnishing the wood flooring, a technique that was being used at that time to manufacture kitchen cabinets. This virtually eliminated all the inconvenience of varnishing the floor on site.
Marcel Mercier, who at the time made kitchen cabinets and wooden furniture, modified a vintage washing machine to press the wooden floorboards between the rollers of the wringer and apply the varnish to them before their installation. In doing so, Mr. Mercier had revolutionized the wood flooring industry! In principle, it seemed simple and easy, but to go from that to manufacturing a truly durable, efficient product was not easy.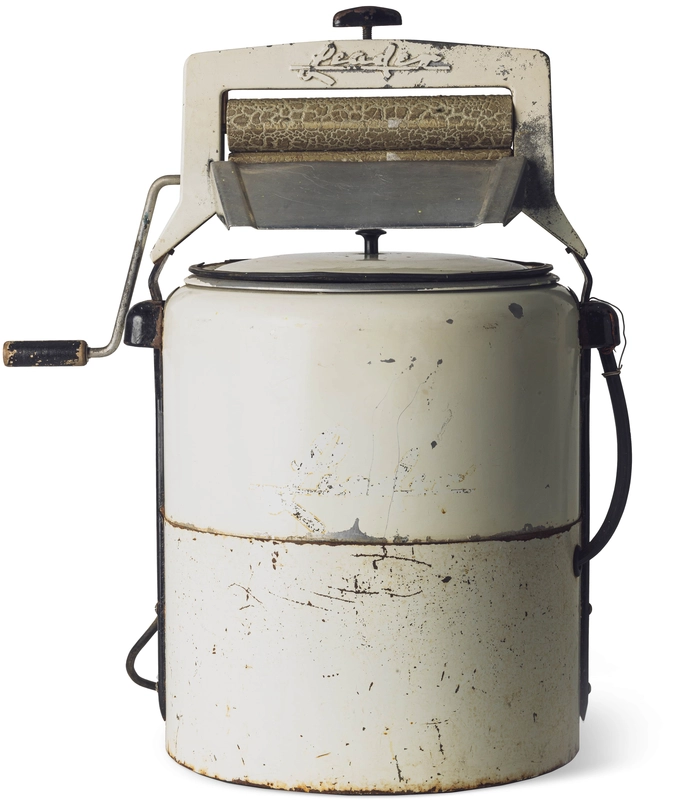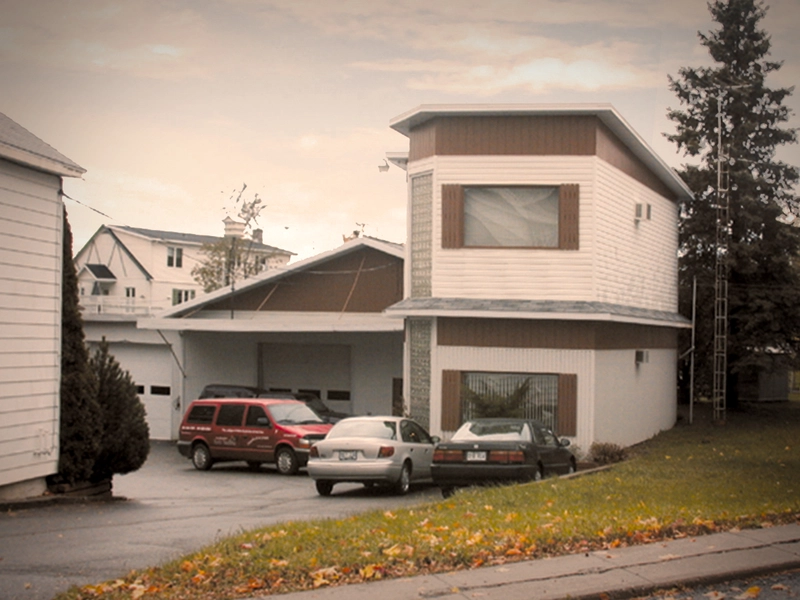 Prototype after prototype. Test after test on finishes. The clever idea became a landmark innovation in the industry. So much so that many flooring manufacturers relied upon Mercier's expertise to pre-varnish the wood floors they manufactured. In the ensuing years, many followed suit in the production of prefinished floors. But there will always be only one original prefinished wood floor manufacturer: Mercier.
Photo: The Montmagny, Qc workshop where Marcel Mercier made the first tests and prototypes in 1980.
"I remember I was a young adult at the time. My father was fully invested in his project to create an ingenious solution for a practical need. When I realize that this innovation continues to make people's lives easier and that it still brings so many opportunities to the construction industry, it fills me with great pride."
- Marielle Mercier, President
The challenge of maintaining wood's authenticity
From the very beginning of the adventure, preserving wood's warmth, texture and authenticity was of primary importance for Marcel Mercier. In addition to the challenge of ensuring the flooring's resistance and durability, there was also the challenge keeping the wood authentic. Forty years later, this relentless pursuit to preserve wood's true nature has made Mercier a recognized master of the science of surface finish and design.
A perpetual pioneer
Ingenuity and a love for wood are the brand's strong character traits, which come directly from the family father. They have shaped the company's true culture of innovation, making Mercier a relentless pioneer in the industry for 40 years. More than one manufacturer may claim to be the original, but staying at the top of the game in an industry that is constantly evolving both technically and in design requires a heritage of passion, unique know-how, and an entire team working towards the same goal.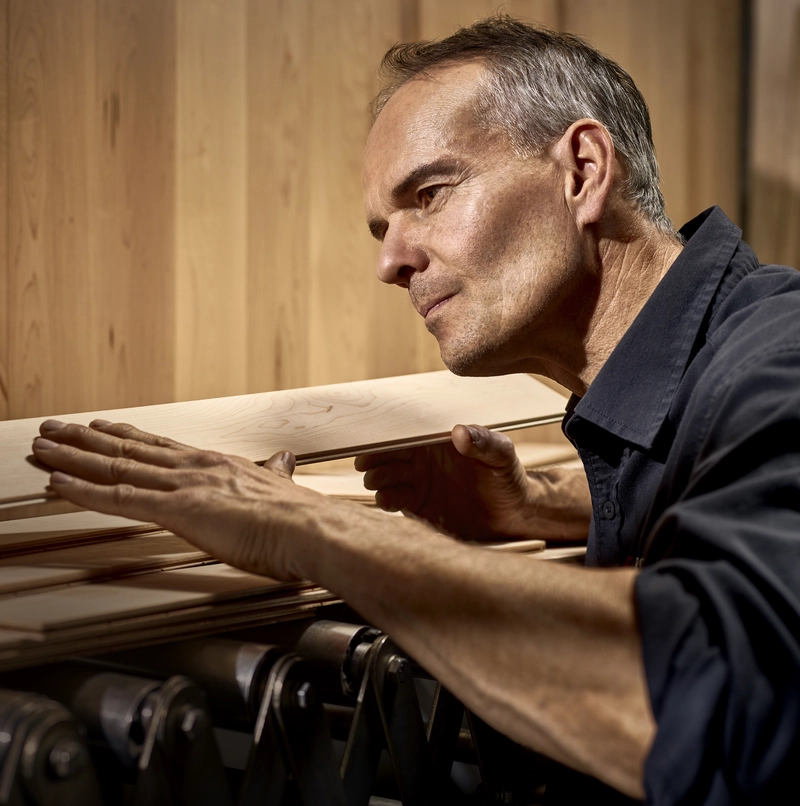 Above: First boards to be prefinished with Ceramilust in 1999.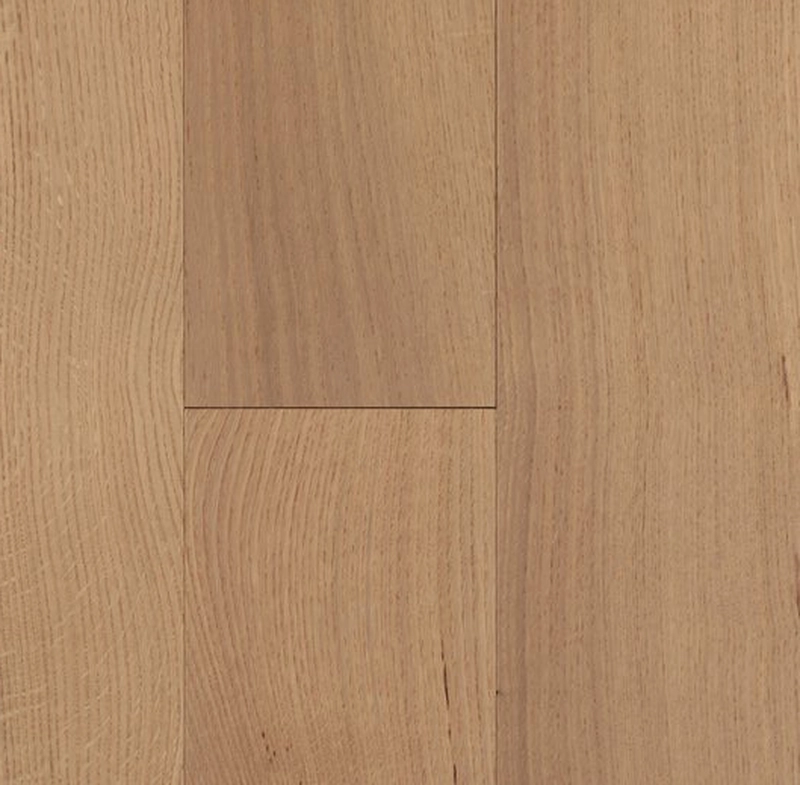 This culture of innovation has positioned Mercier as the forerunner of many innovations, such as the addition, in the early 2000s, of non-toxic aluminum oxide to finishes that increases product strength and durability. More recently, the development of the Naked collection, which enhances wood's raw appearance by sealing in its true color before applying the finish, is a process that preserves the natural color without risk of deterioration over time. The result is striking: the color and texture of bare wood combined with the renowned durability of Mercier floors cannot be beat. Mercier technical innovation that is clear proof of its leading-edge expertise and unwavering passion for wood's authenticity.
Photo: White Oak Naked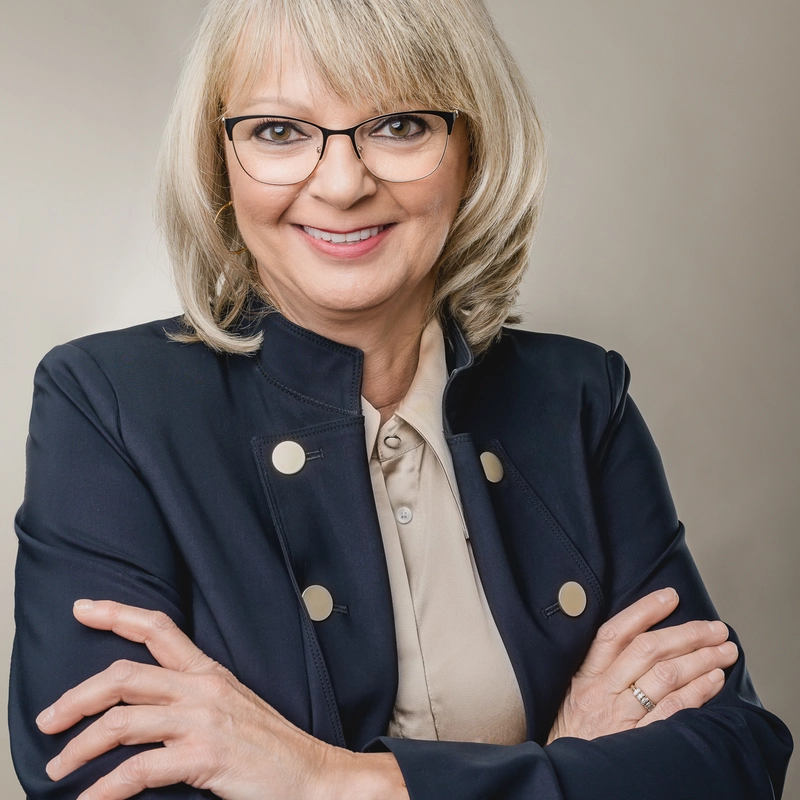 Forty years and still proud
President Marielle Mercier is very proud of how far the company has come.
"I sincerely would like to pay tribute to all those who, regardless of their roles over these 40 years, have helped Mercier remain a perpetual pioneer. This culture of innovation passed onto us by our parents heralds a bright future for the Mercier brand. I am convinced that it's a future full of innovation."
Photo: Marielle Mercier, President.